COLOTECT, DNA Screening Test for Colorectal Cancer
A Non-invasive Faecal DNA Testing to Alleviate Late Colorectal Cancer Diagnosis and Treatment Management
Colorectal cancer remains as a major contributor to global cancer incidence and mortality. According to WHO, colorectal cancer ranks the third for cancer incidence with estimated 1.93 million new cases, and second for cancer mortality with 935,000 deaths reported in 20201. One of the challenges in colorectal cancer management is the late diagnosis. Malaysia National Cancer Registry (MNCR) shows more than 70% of the colorectal cancer cases are diagnosed at late phase (stage III and IV), and the 5-year relative survival rate for colorectal cancer stage IV patient is as low as 17.3%2.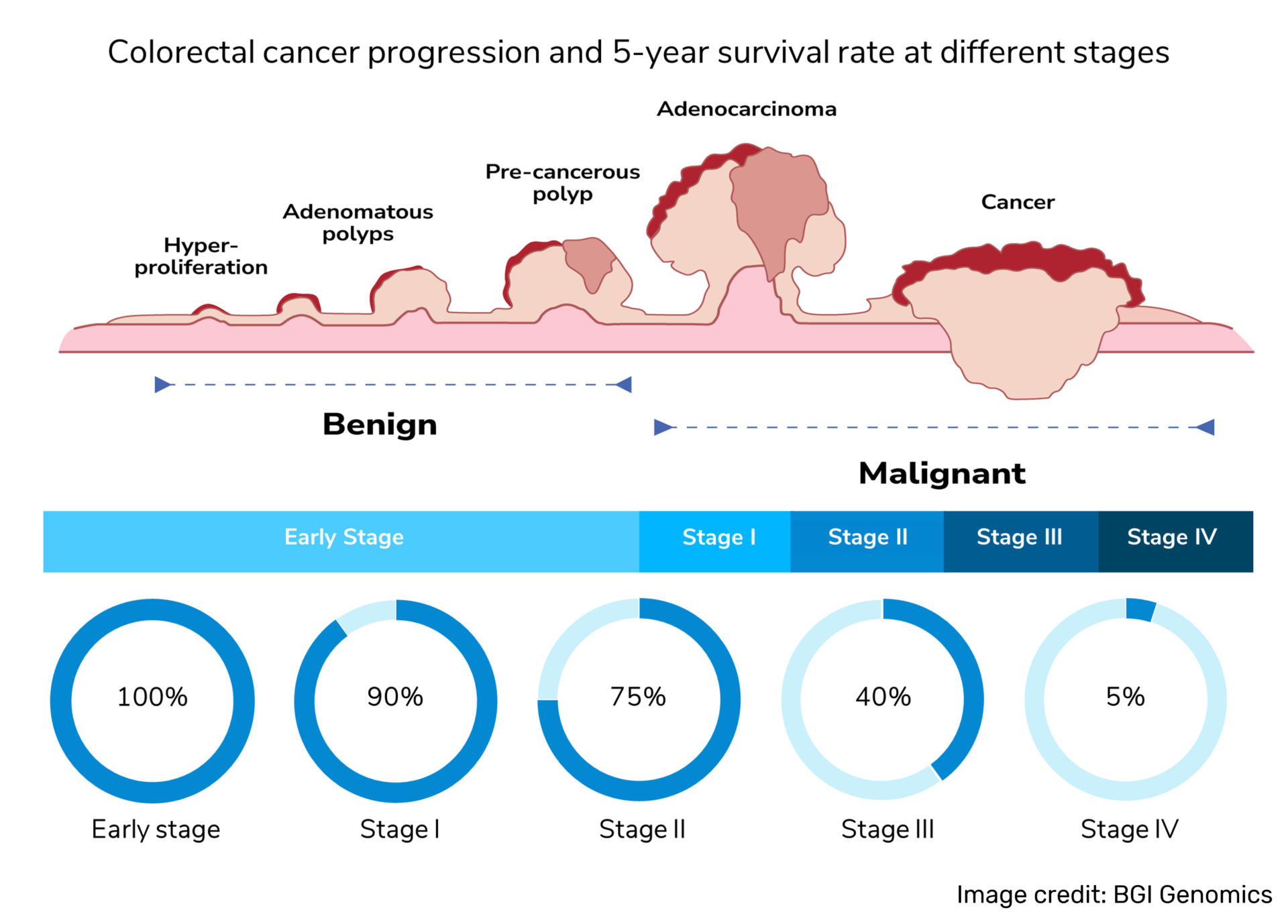 Colorectal cancer diagnosis at late-stage could result in: patient has to undergo a more complicated treatment course, lower chance of recovery, decreasing the quality of life and higher financial burden incurred from long-term treatment and regular follow-up. Thus, it is crucial for the early diagnosis of colorectal cancer.
There are many options for colorectal cancer screening, and some are designed to detect common colorectal cancer symptoms such as occult blood. However, these tests can miss to detect colorectal cancer if the patient does not present with symptoms during early stage of the disease and limit early cancer diagnosis and treatment.
Now, the non-invasive faecal DNA testing known as COLOTECT is available to alleviate the delay in colorectal cancer diagnosis and treatment. Test principle behind COLOTECT is to analyze DNA fragments shed by both normal cells and cancerous or precancerous cells of colon lining onto the faeces. COLOTECT detects abnormal DNA methylation event based on a panel of three biomarkers — SDC2, ADHFE1 and PPP2R5C. Abnormal methylation of these multi-gene biomarkers are associated with colorectal carcinogenesis and thus serve as promising biomarkers for early colorectal cancer detection3,4,5. Utilizing multiplex methylation-specific PCR technology, COLOTECT can achieve a sensitivity of 88% in detecting colorectal cancers cases and 92% in identifying healthy subjects6. COLOTECT also exhibit a higher detection rate in detecting advanced adenoma cases, nearly double the detection rate as compared to faecal immunochemical test (FIT) as showcase in a prospective pilot study. The test promotes early cancer detection and diagnosis, leading to better treatment outcomes.
COLOTECT is an easy-to-do test as the procedure is painless, performable at home or clinic and does not require any bowel preparation or sedation which can be a barrier to colonoscopy. Non-invasive faecal DNA testing can also be used as a screening tool for individuals who are at average risk of developing colorectal cancer. Individuals aged 50-74 who have no symptoms or individual with family history of colorectal cancer are recommended to go for COLOTECT screening, and the test can be repeated for every 3 years. Not only frequent colorectal cancer screening helps saving life, but also assure better life quality and more cost-effective in terms of colorectal cancer management7.
References
Sung H, Ferlay J, Siegel RL, Laversanne M, Soerjomataram I et al. 2021 Global cancer statistics 2020: GLOBOCAN estimates of incidence and mortality worldwide for 36 cancers in 185 countries. CA: a cancer journal for clinicians, 71(3), 209-249.
Azizah A, Hashimah B, Nirmal K, et al. Malaysia National Cancer Registry Report 2012-2016. National Cancer Institute Ministry of Health Malaysia; 2019. Report No. MOH/P/IKN/05.19 (AR). 
Kim JH & Park SC. 2018 Syndecan-2 methylation as a new biomarker for early detection of colorectal neoplasm. Gut and Liver, 12(5), 479.
Hu YH, Ma S, Zhang XN, Zhang ZY, Zhu HF, Ji Y et al. 2019 Hypermethylation of ADHFE1 promotes the proliferation of colorectal cancer cell via modulating cell cycle progression. OncoTargets and therapy, 12, 8105.
Li HH, Cai X, Shouse GP, Piluso LG & Liu X. 2007 A specific PP2A regulatory subunit, B56γ, mediates DNA damage‐induced dephosphorylation of p53 at Thr55. The EMBO journal, 26(2), 402-411.
Fang Y, Peng J, Li Z, Jiang R, Lin Y, Shi Y et al. 2022 Identification of Muti-Omic Biomarkers from Fecal DNA for Improved Detection of Colorectal Cancer and Precancerous Lesions. medRxiv, 2022-11.
Peng J, Zhu S, Wang Y, Gao Y et al. 2022 Clinical validation of a novel stool DNA-based test in a large scale, prospective, real-world CRC screening study.
Yang Z, Shi M, Liu M, Wang Z, Huang H, Wang S et al. 2022 A cost-effectiveness of Fecal DNA methylation test for colorectal cancer screening in Saudi Arabia. medRxiv, 2022-11.